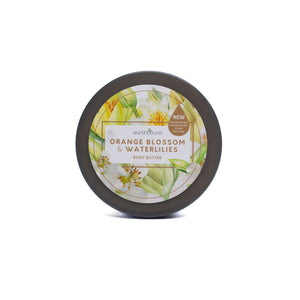 Our Earthbound Orange Blossom & White Waterlily fragrance immediately opens with a bouquet of white floral notes,  creating afresh, powdery scent with a subtle undertone of Lilac, Waterlily, Mandarin and Iris.
made as a rich and nourishing body butter that helps moisturize and enrich your skin! Specially infused with Shea Butter, Vit E and world renowned skin repairing Centella Asiatica 
Plus with Centella Asiatica it also provides instant skin repairing and moisturizing properties

About Centella Asiatica it improves scratches, burns, helps heal hypertrophic wounds, enhances collagen, acts as an anti-inflammatory agent for conditions like eczema, and more!
This is a body butter that is rich , fast absorbing and simply just skin loving!