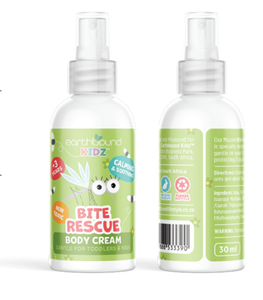 Itching after an insect bite can be really painful and irritating. Our Earthbound Kidz Bite Rescue Cream is a  natural blend of Essential Oils and a Active soothing agent that makes the perfect solution to ease the itch and inflammation caused by those nasty and annoying stings and insect bites.

The multi-calming cream helps to:
- Soothe and calm
- Hydrate and repair
- Provide a cool soothing effect

Its 99.8% plant-based formula helps soothe irritation and itchiness caused by insect and plant bites.
Its nourishing texture, rich in vegetable oils, hydrates and helps regenerate the skin; naturally-derived D-panentol that provides a fresh and calming effect

The multi-soothing anti-itch cream has a Sensitive Skin Active COMPLEX with its soothing efficacy on bites, it is also known to reduce inflammation and helps improves micro-circulation of the epidermis 
This little bottle is packed with all things good and should be a staple in all homes!