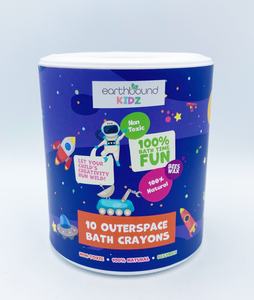 Let your kids Imagination run wild - In the Bath! 
With our 100% Natural BeesWax and Soap Bath Crayons. This cute box of Bath crayons consits of 10 outer space themed bath crayons from unfos to rockets and astronauts!
Not only are our Bath Crayons 100% Natural they are also super easy to clean off baths, bath tiles and if they land up on a wall - they can also be easily cleaned off the wall!
Bath time is always a time and creative time with our Earthbound Kidz Bath Crayons
100% NATURAL , NON TOXIC , PURE FUN