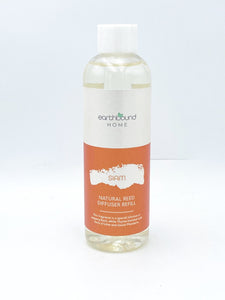 Find yourself surrounded by unique landscapes and unparalleled nature, with backdrops of misty morning mountains. Walking through forests, discovering ancient history, Siam leaves you both energised and refreshed. Peppery basil and aromatic white thyme bring an unexpected twist to the initial scent of limes. Add in the refreshing citrus aroma of classic Mandarins makes this fragrance unisex favourite and just perfect for those hot Summer days and nights – a truly modern classic.
Keep away from breezy areas. We recommend rotating your reed sticks every two weeks.
Where quality meets science. Did you know that all of our Earthbound fragrance blends are made at 30% French Fine Fragrance Oils which means this refill mix is one of the highest oil blends. What more could you expect from Earthbound Lifestyle.