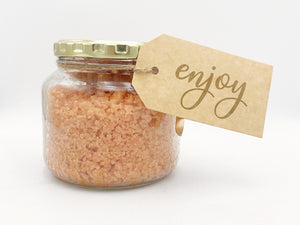 Our Earthbound T-AMORE Range is a young and vibrant range for those in their Teens and Tweens. The focus is on Fun and Vibrant Colours and Unique Fragrances 
Our T-AMORE Shimmer Oh Money Honey Golden Baths Salts are infused with Grapefruit & Sweet orange fragrance and with soft hints of Metallic Gold and White shimmer. Colorful waters of shimmering mica bring beauty, sparkle, and glam to your bath!
It will make you feel like you are bathing in gold! 
Comes with Wooden Spoon for easy scooping