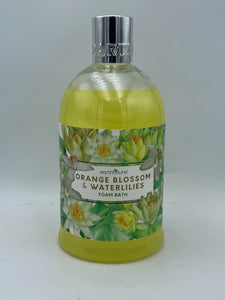 Our Earthbound Orange Blossom and White Waterlily fragrance immediately opens with a bouquet of white floral notes, creating a fresh powdery scent with a subtle undertone of Lilac, Waterlily, Mandarin and Iris.
Directions: Run bath water and pour your Fragranced Foam Bath. Allow to foam and lie down and enjoy your fragrant bubbles.
Our Foam Bath formulations are Paraben Free, Sulphate Free, extra foaming, as well as soft & gentle on skin!