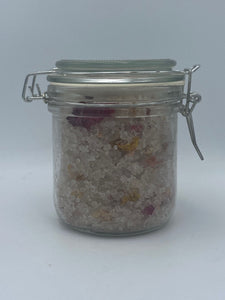 Our Earthbound luxury Bath Salts!
Turn bath time into a tranquil haven of relaxation and soak away the stress of the day with our gorgeous Rose Petal Bath Salts.  These luxurious salts include real rose petals for a feeling of botanical luxury.
"These Bath Salts live up to their promises. It really smell amazing and makes the water soft.
Entice your senses with fragrant rose bath salts! Formulated with sea salt and infused with an intoxicating rose scent, this homemade bath soak recipe is relaxing and rejuvenating.