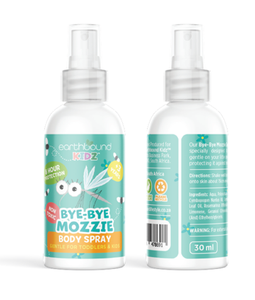 Our Bye-Bye Mozzie Spray has beenspecially designed to be kind & gentle on your litte one's skin while
protecting it against mosquito bites. Our Bye- Bye Mozzie Spray is a natural, hypoallergenic spray. It is formulated without harmful chemicals, making it safe enough to use on children, and spray directly onto your skin, clothing and linen. This formula can be used indoors and outdoors and lasts up to 8 hours. The use of organic essential oils ensures your respiratory system won't be harmed, and now, you can enjoy your summer without being bugged
Suitable for all ages and skin types.
Can be used by Mommies and Daddies too 
100% Natural Ingredients lasts for hours