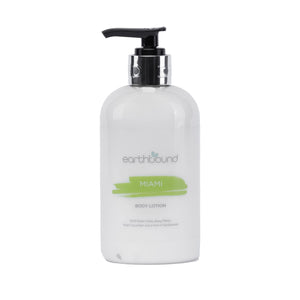 Miami, in the Sunshine State of Florida, is known as a fabulous destination for music, fine beaches and its colourful and varying culture, almost like Camps Bay.
The Miami range was designed around extra hot, party filled summer days. We just love this fresh fragrance of Wild Water Lilies, dewy Melon, fresh Cucumber and a hint of Sandalwood.
Our Earthbound Skin repair Body Lotions are enriched with Vitamin E & Centella Asiatica– which is well known for its skin repairing and regeneration properties
Hemi-Squalene – known for its deep moisturising abilities, its ability to minimises hydration loss whilst increasing the skins suppleness
This advanced Skin Repair Body lotion will help revive , soften and nourish your skin, leaving it soft, smooth and beautifully scented fun.